Places to visit in Chitwan – Popular Tourist Destination
Are you seeking for the most popular places to visit in Chitwan? Chitwan is one of the popular tourist destinations in Nepal and it is always famous for nature lovers. Chitwan has been ranked as the third most visited tourist destination in Nepal after Kathmandu and Pokhara.  It lies at 150km west of Kathmandu valley, the capital city of Nepal. The study has shown that every year, 200,000 visitors visit Chitwan from around the world. Chitwan National Park is the crown jewel of the region and it is the main attraction of the area. Besides Park, Chitwan is rich in cultural diversity and history as well. Therefore, Chitwan is the best place to explore nature, culture, and history at the same time.
Here is a list of places one should not miss while visiting Chitwan:
Chitwan National Park
Chitwan National Park is the main jewel of Chitwan. It is the first National Park which is established in 2030 BS. The park covers a big area and its total area is 932 sq/km. Chitwan National Park is listed in the World Heritage site therefore, it has been the targeted place to visit in Nepal. Elephant breeding centers, vulture, and gharial conservation areas are some of the attractions of the park. Besides this, the park also has no. of temples including Bikram Baba, Lami Taal, and Tamor Taal.

In addition to this, Sauraha is another place which is a good place to visit in Chitwan. It has lots of resorts and you can enjoy in resorts in Sauraha. Elephant riding and exploring the community forest are popular activities in Sauraha. Furthermore, many people go to Sauraha to enjoy culture, lifestyle, and rituals in Chitwan. In addition to this, you will have a chance to explore the local ethnic group of Chitwan that is Tharu, Bote, and Majhi.
Ranipokhari
Ranipokhari is the new destination in Chitwan and it covers four Bigaha in Bharatpur. This has also been developed into an open-air sculpture museum and also famous for a picnic. Visitors have an opportunity to boating in Ranipokhari.
Bishazari Taal ( 20 Thousand Lake)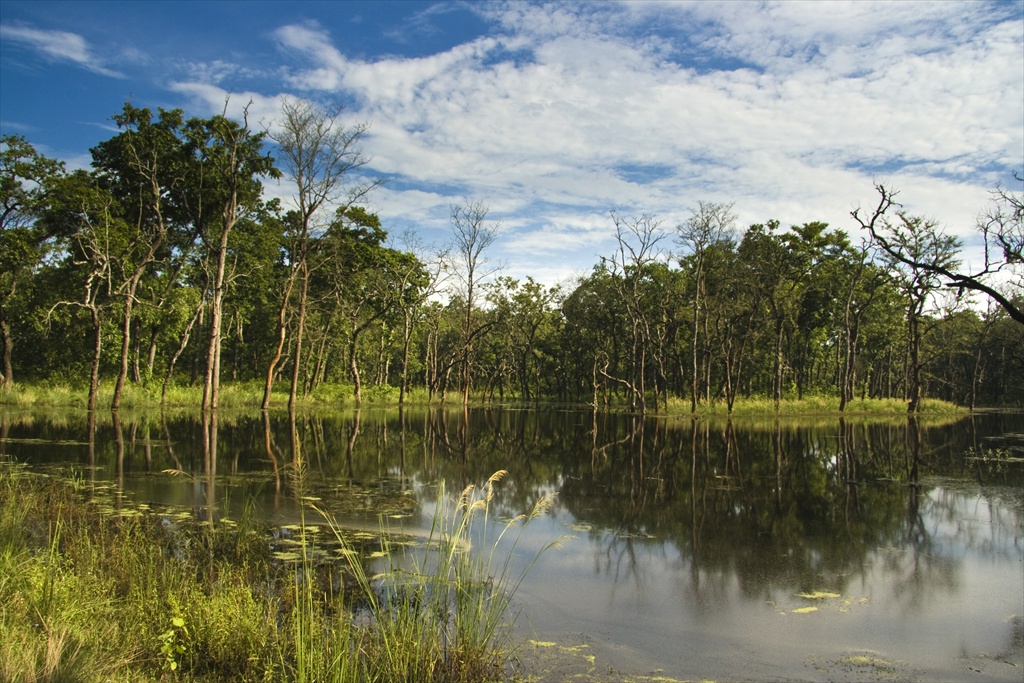 This 20 Thousand Lake is famous in Nepal situated in the Chitwan district of Nepal. It locates in the buffer zone of Chitwan National Park. This area is also called a wetland area. Since the lake locates near the Chitwan National Park, this is the best place for the excellent bird watching. This is a home of many birds who migrate from Siberia. In addition to this, this is a home of many wild animals including deer, tiger, and rhino. It is a very accessible location. It is near to the district headquarters of Bharatpur and the perfect place to visit those who have limited time to spend in Chitwan.
Jalbire Waterfall
Besides Lake, Waterfall is another attraction while visiting Nepal. Jalbire waterfall locates at a twenty minutes walking distance from Jalbire Tempel. Jalbire Temple locates at the Narayangadh-Muglin road section. Jalbire waterfall locates ar Chandibhanjyang VDC -9 of Chitwan. Stepping 100 m down, we will see the popular destination for those in the Bharatpur area. Here, you can enjoy swimming as well. Furthermore, this is a popular destination for the people who are looking for canoe and participate in homestays with the Gurung, the local people.
Shiraichuli Hill among the wonderful places to visit in Chitwan
Shiraichuli Hill is another popular destination of Chitwan. It locates above 946m height and it has become popular destinations for the people who are looking for the place to watch the best sunrise view. People who are wishing to witness the sunrise will have to spend overnight at Hattibang first. From there, we have to walk half an hour for the popular lookout location where one can look out upon a beautiful, unfolding mountain range.
Leave Comment