Buddhism and Buddha Places in Nepal
In the Mahaparinirvana Sutra, Buddha mentions pilgrimage. The goal of Buddha's Dharma is to alleviate suffering dukkha, and the path shown by the Buddha is the practice. Pilgrimages are more than just a sightseeing excursion for Buddhists. It is incorporated into the path as a means of connecting to the enlightened energy of the Buddha, previous masters, and Tirthas – power points. The primary importance is to pay homage and perform related practices at the designated locations. We hope that the local Sanghas will act as facilitators in this regard. Nepal-Mandala probably has one of the highest concentrations of Buddhist pilgrimages.
Because there are numerous and extensive Buddhist pilgrimage sites in Nepal, what we have compiled is merely a list and by no means exhaustive. In addition, research in this field is ongoing, and new locations are being discovered. Because of the decline of the Buddhist tradition in our subcontinent, places like Lumbini were lost for millennia, and Bodhgaya was in ruins until the 19th century. Many Buddhist sites that we have included here have evolved over time into Hindu temples. We hope that reviving pilgrimage to these historic sites will also help to preserve them.
Nepal – a Buddhist Destination
Nepal is a destination for Buddhists in all schools. For your convenience, we have divided the site into three categories. The common Buddhist locations are shared by all Buddhist traditions. Mahayana places are shared by Mahayana and Vajrayana. And, while Vajrayana places are unique to Vajrayana, there are many overlaps, particularly in Mahayana-Vajrayana. Theravadin pilgrims from Thailand, Burma, Sri Lanka, Laos, and Cambodia will benefit from the Common Buddhist sites.
Mahayana Buddhist pilgrims from China, Japan, Korea, Vietnam, Malaysia, and Singapore will be particularly interested in the Mahayana Buddhist sites. Vajrayana pilgrims are also expected to come from Tibet (China), Bhutan, India (Ladakh, Himachal Pradesh, Uttarakhand, Sikkim, Arunachal Pradesh), Mongolia, and Russia. Furthermore, there has been a significant increase in interest in Buddha-dharma from Europe, the Americas, and Australia in recent decades.
COMMON BUDDHIST PLACES
These locations are associated with the Shakyamuni Buddha, his previous lives, and previous Buddhas. All Buddhists, both Theravada and Mahayana, hold them in high regard. There are numerous sites associated with the Jatakas, some of which are named after or are associated with the great emperor Ashoka, and dozens of which are associated with the Buddha himself.
Lumbini
Lumbini is significant to all Buddhists because it is the birthplace of Gautam Buddha. It is one of the four places mentioned by Buddha himself that a practitioner of the dharma should visit in order to pay homage to the Buddha. Apart from Lumbini, there are many places related to Buddha in the Lumbini area, such as the birthplaces of previous Buddhas, the palace where Siddhartha Gautama lived for 29 years, and the only intact relic stupa – among the original eight – of the Buddha.

Birthplace of Siddhartha Gautama
Lumbini in Nepal is famous for being the birthplace of Siddhartha Gautama. In fact, three Buddhas were born in the Lumbini region. Gautama, the Buddha of our time, and two previous Buddhas This subcontinent are known as Jambudvip, and it is said that enlightened beings will be born there. When Buddha's teachings and dharma declined, he foretold the arrival of the next Buddha, Maitreya Buddha, the Buddha of compassion.
Nepal's largest religious Complex
Lumbini is Nepal's largest Buddhist religious complex. When Queen Mayadevi was traveling from Kapilvastu to Devadaha on the Full Moon day of 623 BC, Buddha was born here. She rested in the Lumbini garden, where the Buddha was born. According to legend, the newborn took seven steps, each representing one of the seven factors of Bodhi (enlightenment). It is divided into three sections: the sacred garden, the Monastic Zone, the Cultural Center, and the New Lumbini Village. The Sacred Garden is the heart of Lumbini, where we can see monuments related to Buddha's birth and its records, such as the bathing pond, the nativity spot, the Mayadevi temple, the Ashoka pillar, and so on. There are also the ruins of ancient Buddhist monasteries.

Aside from that, the Lumbini area contains monastic zones containing Buddhist monasteries of both the Theravada and Mahayana traditions from various countries around the world where Buddhism is practiced. The Eastern Lane – Theravada Monastic Zone is made up of Thai, Sri Lankan, Burmese, and Cambodian monasteries, among others. The Western Monastic Zone contains Mahayana and Vajrayana monasteries from China, Korea, Japan, France, Austria, and Germany, among others. The Lumbini area includes the World Peace Pagoda, the Lumbini Museum, the Cultural Center, and other attractions.
New Lumbini Village
The greater Lumbini area is home to a number of important Buddha-related sites. These locations have been identified through archeological excavation and the use of travelogues written by Chinese pilgrims – Fa Hien and Hiuen Tsang – between the 5th and 7th centuries. Tilaurakot is the ancient capital of Kapilvastu, where Siddhartha Gautama spent his first 29 years in search of The Ultimate Truth before renunciation. This is where the remains of King Sudhodhana's palace can be found. When Buddha returned to Kapilavastu after his enlightenment, his father, Suddhodhana, received him in Kudan.
Virudhaka, the Prince of Kosala, massacred the Shakya clan in Sagarhawa.
Other Ashokan Pillars in Nepal
Gothihawa and Niglihawa, which are marked by Ashokan pillars, are regarded as the birthplace and enlightenment sites of two ancient Buddhas. The pillar's remains can still be found there today. Krakucchada Buddha, the first buddha of this Kalpa or eon, was said to be born and enlightened at Gothihawa. Gautama reigned during his time.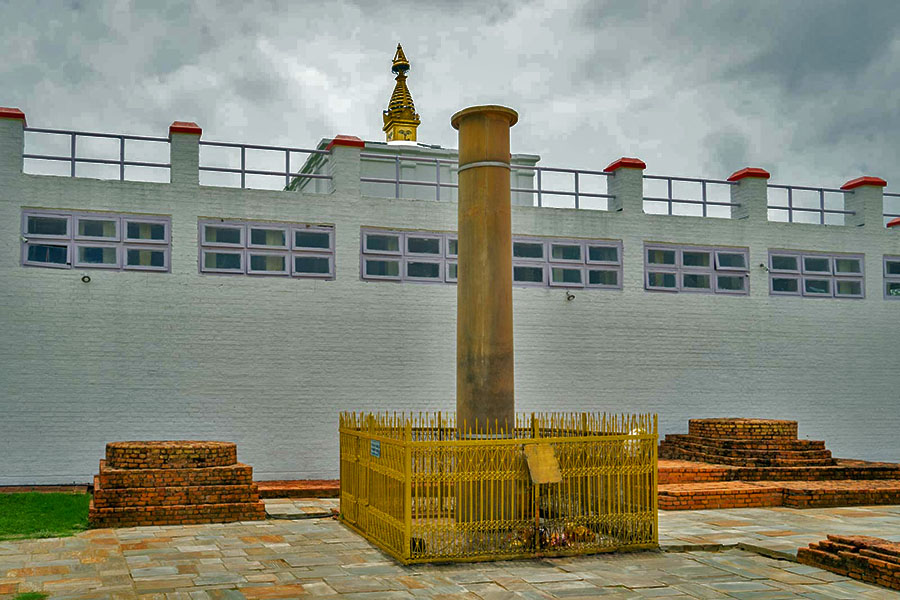 King Khema was the birthplace of Buddha, a Boddhisatva. Niglihawa is thought to be the birthplace and enlightenment location of another past Buddha, Kanakamuni (Konagamana). Queen Mayadevi's maternal home in Devadaha, the ancient capital of Koliyas.
Ramagrama
Ramagrama is a major Buddhist pilgrimage site in the Lumbini region.
Following Shakyamuni Buddha's enlightenment, his relics were divided into eight parts and eight relic stupas were built. With the goal of constructing 84000 relic stupas, King Ashoka redistributed the relics from seven stupas but was unable to open the stupa in Ramagrama, which was said to be prevented by Nagas guarding the stupa. As a result, the Ramagrama stupa is the only intact relic stupa from the time of Buddha, built by the Koliyas, Mayadevi's clan.
Other places associated with Buddha in the region include Aurorakot, Kanakamuni Buddha's birthplace, and Kudan, where King Suddhodhana met Buddha when he returned to Kapilavastu.
Namobuddha
Namobuddha is located in the hills southeast of Kathmandu. In one of his previous lives, Buddha was a prince who, overcome with compassion, fed himself to a hungry tigress and her cubs. The prince, Mahasattva, joined the king, queen, and other princes for a family picnic in this Namobuddha area. He came across the dying tigress and her cubs while wandering around the forest. He became overwhelmed with compassion and offered his body to them. The bone relics of this Prince Mahasattva are housed in the stupa at Namobuddha.

This story is from the Vyagri Jataka, which tells of Gautam Buddha's previous lives. Thrangu Tashi Yangtse, a monastery of the Karma Kagyu tradition of Himalayan Buddhism, sits atop the stupa. There are caves at the top of the hill that is thought to be the location where the prince met the Tigress and her cubs. These five cubs reincarnated as the Buddha's first five disciples, to whom he taught the Dharmachakrapravartana Sutra/ Dhammacakkappavattana Sutta at Sarnath. In addition, the tigress was reborn as Mayadevi, Gautama Buddha's mother.
Boudhanath
Bouddhanath is Nepal's largest stupa. According to Mahayana Buddhist tradition, Bouddhanath Stupa is one of Kathmandu Valley's Three Major Stupas. The stupa houses a relic of the Buddha prior to Gautama Buddha, Kashyapa Buddha. It is built in the shape of a mandala, which can be seen from above. According to Mahayana tradition, Padmasambhava built it in his previous life. The stupa is known in Tibetan as Jarung Khashyor or the wish-fulfilling stupa.

The Tantric master was one of four sons born to a maiden Jadzima (a poultry keeper), an emanation of Avalokiteshvara. Despite her meager earnings, she resolved to do something worthwhile and sought permission from the King.
Her neighbors threw up roadblocks, but she persisted. As a result, the stupa became known as Jarung Khashyor or the wish-fulfilling stupa. Among the crew who built the Stupa, the first son, Trisong Detsen, was born as a Dharma King of Tibet, the second as Abbot Santaraksita, the third as Padmashabhava, and the fourth as the minister Bami Triser. They all played important roles in the establishment of Buddhism in Tibet. Bouddhanath is also a Padmasambhava practice site, with numerous important Himalayan Buddhist monasteries in the stupa area.
Charumati
Charumati stupa was built by Asoka's daughter with Shakyamuni's relics from seven holy places excavated, divided, and distributed by King Asoka. One part of that was sent to Kathmandu valley with the daughter to be used in the construction of the stupa. There is an old Charumati Baha where two bricks with Brahmi script inscribed on them were discovered. In its grounds is a newly established Theravada monastery that is supported by the Sri Lankan government.
2. MAHAYANA
Mahayana Buddhism is comprised of numerous Buddhas and Boddhisattvas.
As a result, the Bodhisattva sites are crucial. Kathmandu Valley—which is said to have been settled by an emanation of Manjushree—has a special connection with Bodhisattva Manjushree and many sites dedicated to him. In addition, Lokeshvara is associated with ancient Kathmandu valley festivals such as major chariot festivals. The valley also contains the resting places of the Eight Great Bodhisattvas. Nepal has been a center of activity for the Buddhas throughout history, and ancient Buddhas such as Dipankara Buddha are revered.
Swayambhunath
Swayambhu is Sanskrit for "self-arisen." According to legend, the stupa arose spontaneously from a lotus seed planted on the lake by Vipashwi Buddha eons ago as a Dharmadhatu flame of wisdom. Later, when Manjushree Boddhisattva in the form of Acharya Manjudeva arrived from China's five-peak mountain, he saw the Swayambhu light and wished to make it accessible to pilgrims. As a result, he drained the water and covered the flame with a stupa. Later, King Prachandadeva of India's Gaud Kingdom came here and became known as master Shantikara Acharya, the stupa's caretaker.

He built four shrines for the four elements, as well as the Shantipur temple. He is said to have entered the Shantipur temple and is meditating inside.
The stupa is located on top of a forested hill and provides excellent views of Kathmandu Valley. On each of the Stupa's five sides, there are statues of five Buddhas and their consorts. On the premises of Swayambhunath, there are numerous stupas and temples, including the Vasubandhu stupa and the Harati temple.
Ashokan Stupas of Patan
Patan is home to four Ashokan stupas. The stupas are part of the 84000 stupas commissioned by King Asoka. Patan's four corners are said to have been marked by four Ashoka Stupas (Lalitpur). The Lagan Thura (South Lagankhel), the Teta Thura (East Gwarko), the Pucho Thura (West Pulchowk), and the E-Bahi Thura (North Sankhamul). The central stupa at Pim-Bahal is regarded as Patan's fifth Ashokan Stupa.
Eight Bodhisattva Places of Kathmandu Valley
For the benefit of all sentient beings, the Eight Great Bodhisattvas manifested as light forms in eight different locations throughout the Kathmandu valley. The Asta. Vitaraga of Nepal Mandala refers to the Eight Sacred Places. Bodhisattvacharya was practiced by the respective Bodhisattvas at each Vitaraga (activity of the Bodhisattva). Because of the presence of these Great Bodhisattvas, Nepal Mandala became a pleasant and sacred place. The Swayambhu Purana mentions these locations.
Gokarna, Manichud (Sakhu), Kileshvara (Changu), Kumbheshvara (Patan), Phanikeshvara (Pharping), Garteshvara (Pharping), Gandhesvara (Chobhar), and Vikrameshvara are the eight sacred places (Adesvarasthan).
Shakyamuni Buddha told the story of the Eight Sacred Places and the Bodhisattvas who were compassionate to sentient beings. Gokarna is the location where Bodhisattva Gaganganja (Avalokiteshvara) rescued Prince Gokaranaka from his filial hatred by convincing him to seek refuge in Tri-Ratna (Three Jewels) and teaching him the path to enlightenment.
Manichud
Manichud (Sakhu) is the location where Bodhisattva Maitreya manifested himself for the benefit of all sentient beings. Shakyamuni Buddha tells Bodhisattva Maitreya the story of King Manichuda and his compassionate act. In the story, King Manichuda offers his body to Yakshya, who is dying of starvation, at Kilesvara (Changu), one of the Bodhisattva's Eight Sacred Places. In this location, the light form of Bodhisattva Samantabhadra manifested. According to Shakyamuni, in this location, Bodhisattva Samantabhadra subdued the Naga king who blocked the rivers' gateways out of compassion for the drowning people of Kathmandu valley.
Bodhisattva Vajrapani rescued Sarvapala Vaidhya (Ayurvedic doctor) from his 12-year-long penance for his unwholesome action in Kumbheshwor (Patan). As a Vaidhya, he acted out of greed, and the king was informed of his wrongdoing. The Vaidya, disguised as a mendicant, abandoned his wealth and home and began penance until the Bodhisattva Vajrapani came to his aid.
Phanikeshvar
Phanikeshvar resides in Pharping (Seshnarayan), and the Bodhisattva Sarvanivarana Viskambhi taught Odiyana Acharya the path to attaining the Eight Siddhis. Garteshvara is currently in Pharping (Gopaleshvar). Bodhisattva Manjushree rescued Manjugarta from his ignorance and taught him the path to Pragya (Wisdom) in this power-place, Gandhesvara in Chobhar is the sacred site where Bodhisattva Kshitigarbha rescued Odiyana Acharya from Ganesha's wrath.
Another Vitaraga is Vikrameshvara in Sitapaila (Adeshvarsthan). Bodhisattva Akasagarbha appeared in this location to Odiyana Acharya, who was practicing austerity because the valley was suffering from severe droughts and the greenery was dying.
By ending the drought with soothing rain, the Boddhisattva Akashagarbha rejuvenated life and nature in the valley. According to Buddhist tradition, pilgrims who visit the Eight Sacred Sites will be born in the Formless realm.
Lokeshvaras of Kathmandu
Avalokiteshvara is a compassionate bodhisattva. In Sanskrit, he is known as Lokeshvara or Karunamaya, in Tibetan as Chenrizig, and in Chinese as Guanyin. In Kathmandu, there are four forms that are highly regarded.
In Kathmandu valley, there is a legend about Macchindranath, an emanation of Lokeshvara who rescued the people from a severe drought. Kathmandu has four Lokeshvaras: Raktavalokeshvara (Red Machindranath, Bungamati), Anandadi Lokeshvara (Adinath, Chobhar), Aaryavalokiteshvara (Seto Machindranath, Indrachowk), and Shristhikanta Lokeshvara (Adinath, Chobhar) (Nala, Kavre). In addition, Jatadhari Lokeshvara (Minanath Temple, Patan) is regarded as a fifth Lokeshvara temple.
Manjushree Places of Kathmandu
Manjushree, the Boddhisattva of Wisdom, is central to the story of Kathmandu Valley's formation and settlement. Manjushree is known in Tibetan as Jampalyang and in Chinese as Wenshushi Pusa. The Vagishvara form of Manjushree is popular in Kathmandu. Manjushree
came to Nepal from Wutaishan, China, and first settled in Bhaktapur at Mahamanjushreesthan (Lhasa-pako). He spent a long time on a hill near Swayambhu that has a Manjushree shrine. Manjushree opened the Chobhar Gorge, which has a Manjushree Park with a large Manjushree statue and caves related to Manjushree. Aside from that, there are numerous small temples, river gorges, and shrines associated with Manjushree in Kathmandu.
3. VAJRAYANA
Nepal is a special place for followers of Vajrayana Buddhism, also known as Tantrayana, which is a branch of Mahayana Buddhism. The majority of Nepali Buddhists follow this school of thought. With its numerous and beautiful monasteries, temples, and power spots, Kathmandu Valley has a living tradition, Newari Buddhism, that resembles ancient Indian Vajrayana. A story from a Tibetan chronicle exemplifies the sacredness of the Kathmandu valley. A Tibetan master was about to enter Kathmandu valley on a pilgrimage when he noticed it from a hilltop.
As a Siddha (realized master), he saw the Kathmandu valley as being full of holy places and decided not to walk through it. So he prostrated three times to the Valley and returned to Tibet! Vajrayana Buddhists consider Nepal to be the practice site of Mahasiddhas of the past, a mandala of their activities, and a place of enlightenment, similar to that of the 8th-century master, Padmasambhava. There are many Beyuls in Nepal, which are sacred hidden valleys and practice caves of past masters.
Padmasambhava Places
Padmasambhava, also known as the lotus-born, is an emanation of Amitabha Buddha. He is a significant 8th-century master from Pakistan's modern-day Swat Valley. He is widely credited with introducing Vajrayana Buddhism to Tibet.
Buddhism arrived in Tibet in the 7th century but did not establish a stronghold there until King Trisong Detsen invited Master Padmasambhava to resurrect it. He is regarded as an emanation of the Buddhas prophesied by Shakyamuni, and he is said to have been born from a Lotus flower in the Kingdom of Oddiyana. He is a well-known historical Vajrayana Buddhist master.
Many places in Kathmandu and the Nepalese mountains are associated with him. His activity locations in Nepal include Lho Gekar monastery (Upper Mustang), Temal, and Pokhara.
In Nuwakot, there are Pharping, Risheshwar (Daman), Kabilash, and Devighat.
His practice locations include Maratika (Halesi), Helambu, Pharping, and numerous caves in the Himalayan region. He has also hidden many Termas (hidden teachings) at these locations.
i) Pharping – Asura Caves
Pharping is an important site for Vajrayana Buddhists because it contains the cave where the Tibetan master and adept Padmasambhava, who transmitted Buddhism to Tibet, attained enlightenment. It was named after the Phamingpa brothers, who were Guru Naropa's disciples. Padmasambhava's enlightenment cave is Asura cave. While meditating with consort Shakyadevi, he attained the supreme state of Mahamudra.

Guru Rinpoche's handprints can be found in the upper cave. At the base of the hill where the cave is located, there is an ancient Vajrayogini temple on one side and a temple of self-arisen Tara on the other.
The lower cave is located next to a Hindu temple dedicated to Vishnu, Seshanarayan.
It bears the imprint of Guru Rinpoche's head. This is where the Guru practiced Vajrakila and subdued the local gods and goddesses who were impeding his path to enlightenment.
ii) Padmasambhava's Other Places:
The main seat of Padmasambhava in Kathmandu Valley is l-Bahi of Patan.
He rescued the Nepali princess Kunla Kunsashi here. It is located next to the northern Ashokan Stupa.
Guru Padmashambhava blessed the land of Yarinag/Temal, Kavre. Temal is derived from Termahal, where the Guru hid termas. It is the land of Bodhichitta Garden, which the Master started by planting Bodhichitta seeds (Ziziphus budhensis). The Guru subdued the demonic Black Yaksha in the cave Yarinag. He manifested as Dükyi Shechen here.
Risheshvara
Risheshvara, near Daman in Makwanpur district, is one of Guru Padmasambhava's seven sacred sites near Kathmandu valleys. Padmasambhava blessed the site with a rock-water spout, making it a sacred site. Even when there are no rains, the rock water spout never runs dry.
In Nuwakot, there are Pharping, Risheshwar (Daman), Kabilash, and Devighat.
His practice locations include Maratika (Halesi), Helambu, Pharping, and numerous caves in the Himalayan region. He has also hidden many Termas (hidden teachings) at these locations.
when the surrounding spouts go dry during the hot and dry season. Here,
he manifested as Kyechok Tsulzang. Devighat, Nuwakot is the site where Guru Padmasambhava subdued the demonic forces creating an obstruction in his path of the Dharma dissemination.
Kabilas
Kabilas, Nuwakot is the site where Guru Padmasambhava subdued the demonic forces creating an obstruction in his path of the Dharma dissemination. In Nuwakot he manifested as Kyepar Phakpé Rikdzin:
Maratika or Halesi lies in Khotang District South-East of Kathmandu. This is the place where the Guru attained the Vidyadhara state of immortality and practiced along with his consort Mandarva. It is one of the primary practice places of Padmasambhava.
There are many caves in this area, including Secret Cave, Garuda Cave, Mandarva's Cave, and others. The three hills are known as Manjushri, Vajrapani, and Lokeshvara hills, after the three bodhisattvas which represent three aspects of Buddha.
Yoginis of Kathmandu
Dakini are the enlightenment guides. They are regarded as Buddhas' mothers. The four yoginis of Kathmandu are said to be four sisters who spontaneously arose at power points throughout the valley. Vajrayogini of Sakhu (Khadgayogini), Vajrayogini of Pharping, Bidheshwori (Bijeshwari), and Guheshwori are the four yoginis (Vajravarahi). In addition, there are four Varahi temples and other Vajrayogini shrines in Kathmandu valley.
Sacred Caves/ Places of Siddhas in Kathmandu
Caves of Naropa and Tilopa: Surya ghat is located in the Pashupatinath area, upstream of the Bagmati River from Arya ghat. On the right, there are numerous caves formed by the rocky cliffs. One pair of caves is associated with Naropa and Tilopa. The abbot of Nalanda, Naropa, and his master, Tilopa, meditated here. Naropa is the Guru of Tibetan Guru Marpa, who is the master of the illustrious Tibetan Yogi Milarepa.
Sankhu Vajrayogini Caves:
There are numerous caves where the 84 Mahasiddhas meditated in the area surrounding the Vajrayogini temple and the surrounding Manichud hill. Siddhas such as Nagarjuna have also meditated here.
Other significant caves in Kathmandu include the Manjushree cave of Bhaktapur, where Milarepa was greeted by an envoy of the King of Bhaktapur; Pharping caves of Padmasambhava, Chobhar caves related to Siddha Bharovajra, and Ra Lotsawa; and Caves of Nagarjuna area (Jamacho) – Nagarjuna cave, Laxmi cave, Vasubandhu
Dharma Defenders in Kathmandu
Kathmandu has a plethora of power locations and temples associated with Buddhist Dharmapalas (Dharma protectors). Past masters, such as Padmasambhava, had sworn an oath to help the Buddha dharma. Kathmandu's Mahakala temples include Tundikhel Mahakala and Kal Bhairab of Hanuman Dhoka. All three cities, Kathmandu, Patan, and Bhaktapur, have temples dedicated to Asta-Matrika (8 mother goddesses). Aside from that, there are notable protector goddess temples such as Banepa's Chandeshwari (Ekajati).
Notable Monasteries of Kathmandu Valley
From the seventh to the thirteenth centuries, the Kathmandu valley was a thriving center of Newar Vajrayana Buddhism. During that time, the Buddhist Newar community constructed hundreds of monasteries known as Bahas and Bahis in Kathmandu, Patan, and Bhaktapur.
Master Atisha consecrated Vikramashila Mahavihar or Tham Bahi of Thamel in the 11th century while staying in Kathmandu before going to Tibet. It contains a special Prajnaparamita text written in gold, which is thought to be the copy that Nagarjuna brought from the Naga realm.
Padmasambhava's main seat in Kathmandu Valley is I-Bahi of Patan, where he rescued the Nepali princess Kunla Kunsashi. It is located next to the northern Ashokan Stupa.
Hiranyavarna Mahavihar
Hiranyavarna Mahavihar or Kwa Bahal of Patan, also known as the Golden Temple, is without a doubt the grandest Baha of Kathmandu Valley. Master Padmasambhava is said to have taught here in the 8th century.
Gobichandra Vihar (Pintu-Bahi)
Gobichandra Vihar (Pintu-Bahi) – where Bengali Pandit Vanaratna lived for 41 years in the 15th century. He established the image of Vajradhara here.
Itum Bahal is one of Kathmandu's oldest Baha (monasteries), with a Tara temple on the premises. The White Tara here is also known as the 'talking Tara,' and she is said to have come from Tibet to stay.
Patan is unique when it comes to Bahas, and among the many noteworthy monasteries are Ratnakara Mahavihar, where Tibetan translator and master Marpa studied with Nepali masters, and the Mahabouddha temple of Patan, which was built as a replica of the Mahabodhi temple in Bodhgaya.
Swayambhu Puran Power Places
The 'Swayambhu Puran' is a significant Mahayana-Vajrayana Buddhist text of Kathmandu valley that summarizes and organizes the holy places of Kathmandu valley. It is also the source of the Kathmandu Valley's origin story. It all begins with the Kathmandu Valley as a lake. Vipashwi Buddha sowed a lotus seed from Jamacho (Nagarjuna hill) to the lake, and it bloomed to form a lotus emanating from the flame of Dharmadhatu. Many past Buddhas, including Krakuchanda, Kashyapa, and Vishvabhu, visited and paid homage to this lotus over the eons from various hills surrounding the valley.
Later, Manjushree in the form of Manjudeva arrived from Panchashirsha Parvat (Wutai Shan) in China and cleared the valley of water, establishing Swayambhu chaitya on top of Swayambhu's flame. It mentions the valley's power centers, such as twelve Tirtias, eight Vitaragas, Smashanas (charnel grounds), and so on.
BEYULS
Beyuls are hidden mountain valleys prophesied by Guru Rinpoche Padmasambhava as a significant practice location for future practitioners and yogins. Later, they would be discovered by other adepts Yogins – Tertons (treasure revealers). Termas are sacred objects and teachings concealed by ancient masters such as Padmasambhava.
Nepal has five of these Beyuls, which are located in Helambu (Yolmo), Langtang (Namgo Dagam), Makalu-Barun (Khenbalung), Manaslu (Kyimolung), and Dolakha (Khandro-Rolwaling)
Helambu
Helambu is a sacred valley in Beyul that was prophesied and blessed by Guru Padmasambhava, an 8th-century Siddha. Milarepa, a famous Tibetan yogi, also meditated for three years in this area. It is one of the most beautiful Beyuls in Nepal, and it can be reached by car. The elevation is moderately high.
The master practiced meditation at Nyida Rangjon (Self-Arisen Sun-Moon Cave) in Melamchi Ghyang. The area contains caves with his head and foot imprints, as well as the master's stone mill and the cave of his consort Yeshe-Tsogyal. The larger Helambu is a spiritually charged area with many other Padmasambhava caves and retreat settlements established by illustrious masters such as Chatral Rinpoche.
Places Related to Milarepa:
Milarepa practiced for three years in the cave Tagphug Sengezong in Helambu Region. It is located on the route from Timbu to Melamchighyang.
Tagphug Sengezong translates to "Tiger and Lion Cave." It is the cave where Milarepa saw his master Marpa visit him as a tiger and Milarepa manifest as a lion. Shakyamuni Buddha predicted in the Avatamsaka Sutra that this location would be a blessed land for spiritual practice. Milarepa's Doha on the subject is one of his most insightful Dohas (songs of realization).
In Bhaktapur, right above Manjushree's temple at Mahamanjushreesthan, Milarepa was greeted by the King of Bhaktapur's envoy. There is a rock with hoof prints on it. Milarepa met and debated with Indian master Dharmabodhi in Nuwakot, near the premises of Nuwakot Durbar.
Milarepa practice caves can also be found in the mountainous regions of Manang (Nyesang Kurti), Rasuwa (Gosaikunda), Gorkha (Tsum and Nubri), and Dolakha (Lapchi)
Leave Comment