Enjoying your Nepal Tours with Kids and Family
Since the Nepalese are typically kind and accepting of children, Nepal is a good destination for tours with kids and family. Nepalese culture is strongly family-oriented, and parents are seldom expected to be the primary carers for their children. Aunts, uncles, grandparents, and neighbors are eager to assist Nepalese parents. This can also apply to visitors from other countries. Furthermore, Nepal's breathtaking grandeur has no introduction, with the Himalayas snaking a path from west to east throughout the country.
Any family holiday to Nepal will be set against a breathtaking backdrop of huge snow-capped peaks, with several trekking opportunities. You can choose between a short vacation or a long journey in the mountains. Furthermore, tailormade experiential tours in Kathmandu valley and other low altitude towns are available as per the need of travelers.
More than that while traveling Nepal with the kids, you can go on a tiger and rhino safari in Chitwan and Bardia National Park. Besides that, the white water rafting, spending overnight in hidden Newari villages.
Hiking in the Annapurnas
Trekking in the Annapurna range takes place against a stunning backdrop of snow-capped peaks. The Annapurna range is widely recognized as one of the world's most magnificent trekking destinations. With multiple mountains soaring above 8,000 meters and clouds spinning around their distant peaks, the sight is spectacular. The foothills, on the other hand, are as beautiful, with steep-sided forested slopes dotted with medieval towns and linked by centuries-old stone paths.
Those wanting a bit more luxury may stay in a series of lovely lodges with breathtaking views, while those seeking authenticity can stay in traditional trekking teahouses, where they will be assured of a warm welcome. You will have the option to tailor trips to meet the specific needs of individual families, so every family holiday to Nepal can include a trek of some sort, whether it's a short day hike or a multi-day trek. Dhampus-Sarangkot hiking is a short and easy hiking trip where one can enjoy the Nepal tour with kids and family
Chitwan Wildlife Jungle Safari
Rhino tracking in Chitwan is a lot more fun for people of all ages, whether by safari jeep or on foot. Children, in particular, like being in the presence of birds and animals in a natural setting. Chitwan National Park's steamy jungles sprawl over the lush and fertile plains of southern Nepal, apparently a million miles from the Himalayas. This area is home to the rare Bengal tiger, Asiatic one-horned rhino, and a myriad of monkeys, birds, and crocs.
While sighting a tiger is exceedingly unlikely (though scratch marks and paw prints show that they do exist), witnessing a rhino is almost certain. Children would enjoy the thrill of searching the bush for animals and stopping at a remote viewpoint in the hopes of catching a sight of a rhino lumbering down to a waterhole. Boat cruises and walking safaris are two more popular activities among Nepalese tourists.
Chitwan's elephant activities, a popular activity for Nepal Tours with kids and family
You will be able to take your children to Nepal. A concerned teenager is assisting in the upkeep of an elephant in the Chitwan National Park. In Chitwan, your children may learn how to care for rescued elephants.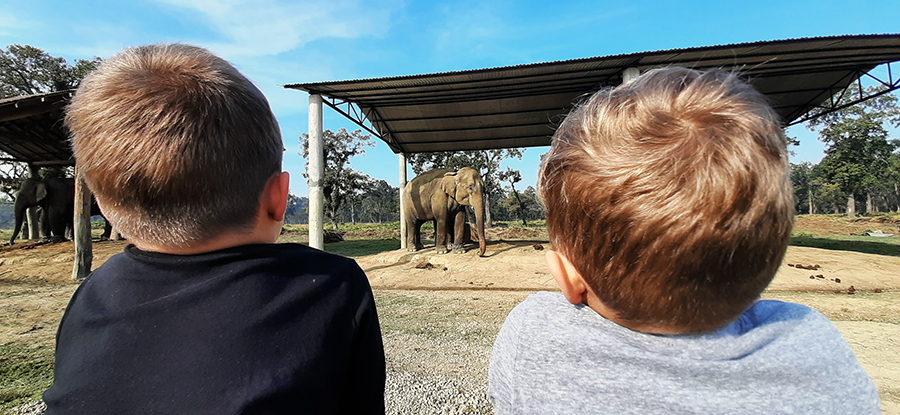 Among the most fun things for families visiting Nepal is engaging with elephants in Chitwan National Park. Although elephant safaris are no longer recommended, you might be able to help bathe these magnificent beasts in the river, prepare and feed them 'elephant sandwiches,' and enjoy their company on a thrilling morning walking safari.
Kathmandu Sightseeing
During your Nepal Tour with Kinds, your children enjoy the monkey activities in and around Swayambhunath and Pashupatinath Temple. The gigantic prayer wheels of the Buddhist temple enchant them. Make a spinning prayer wheel for the youngsters. It's a lot of fun and it's meant to be beneficial to your health.
One of Asia's most gorgeous cities is Kathmandu. With prayer flags wafting in the air, exquisite medieval monuments nestle alongside Hindu temples and Buddhist stupas. Dreadlocked sadhus (holy men) and eager hikers shopping for a cheap North Face jacket wander by sacred cows in the streets. Follow the masses down winding alleyways to tranquil courtyards ruled by living goddesses. Before spinning some prayer wheels for luck and dodging the monkeys at Swayambhunath, stop for momos (steaming dumplings) on a rooftop café to take in the scenery. It's wild, fast-paced, and a lot of fun. Our itineraries start and conclude in Kathmandu, allowing you to experience the finest of Nepal.
Feed Pigeons
Nepal's temples areas are good homes for Pigeons. People offer grains to the gods and also to these peace-loving birds in the temple premises. You kids will love to feed them during your sightseeing tour of Kathmandu Durbar Square, Swamyambhunath, Pashupati, and other temple areas.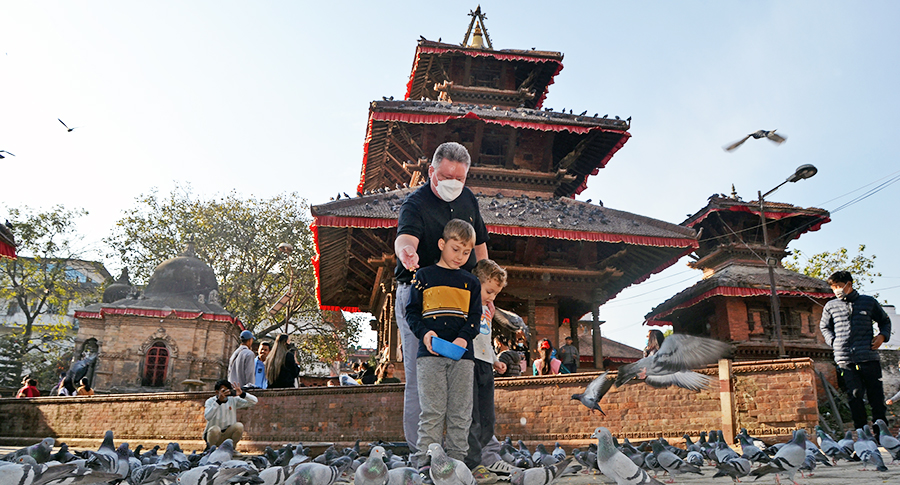 Spend the night at a traditional Newari inn in Bandipur during Nepal Family Tours
Everyone will appreciate a stay at the charming Bandipur hotel when traveling in Nepal with children. Bandipur is a charming Newari town on a mountainside, reached through a (seemingly never-ending) route going up into the hills against a stunning Himalayan backdrop. Stay at a historic inn with narrow corridors, twisting stairwells, and hidden balconies. The kids will enjoy following their noses around peaceful alleys lined by traditional homes decked with lots of vividly colored flowers, and there's a local restaurant outback with stunning views and tasty Newari cooking.
In Pokhara, visit Natural History Museum
The kids will get a day to tour the natural history museum in Pokhara during their family's trip to Nepal. It is not only entertaining, but it also provides opportunities to learn about the Annapurna Region's vegetation. In the natural history museum on the Prithvi Narayan Campus, children will learn about a large collection of butterfly species that have been conserved for educational purposes. Kids will enjoy seeing a wide collection of butterflies.
In Bhaktapur, dress up as a potter
Among the four of the major squares of Bhaktapur, pottery square is the prime attraction among tourists. The kids will enjoy the opportunity to create their own masterpieces in the pottery workshop. Interested kids, can create and paint their own Thanka. Additionally, learning to cook momos, or crafting your own Khukuri are all possibilities. We can add a variety of activities to your family's trip to Nepal.
Nepal tours with Kids to spend some time at a monastery
Spending a night at a practicing monastery on a family trip to Nepal. It is the best way to see the way Buddhism mixes with the fabric of Nepali life. This is a one-of-a-kind experience, whether you wish to learn more about Buddhism or simply relax and absorb the immensely powerful rituals and chanting that make up a monk's daily life. The monks welcome you to join them in the main hall for early morning or evening rites. The way your youngsters engross and enthrall will surprise you.
It may seem self-evident, yet Nepal is a landlocked country with no visible beaches. For many families, some rest and recreation (R&R) is an important part of a good vacation, but it doesn't have to be on the beach. Nepal offers a few truly wonderful boutique villas with tantalizing pools that are located in gorgeous locales. Although there will be no sea, there will be sun loungers, a place to cool down, wonderful meals, breathtaking views, and impeccable service. The ideal way to round off your family's trip to Nepal? Yes, we believe so.
From the sadhus (holy men) and prayer wheels to secret courtyards and rooftop cafés, Kathmandu is a chaotic, bustling city that your kids will enjoy. We appreciate hearing from families who have been with us.
Why should you take your Nepal tours with kids for a family vacation?
If you bring a crying child into a restaurant, no one will complain, and a pleasant waiter will most likely assist you by playing with the children and diverting them so you can relax. If you have children with you when on official activities, you won't have to wain in the long queue. On the other hand, your youngsters may grow tired of having their cheeks squeezed tenderly
Final Say
To summarize, Nepal is a family-friendly country for ambitious tourists who understand and are prepared to face the obstacles head-on. Those that succeed will almost certainly be rewarded with a rich and beautiful experience.
Leave Comment